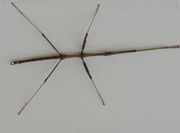 The Phasmatodea (sometimes called Phasmida or Phasmatoptera) are an order of insects, whose members are variously known as stick insects (in Europe and Australasia), walking sticks or stick-bugs (in the United States and Canada), phasmids, ghost insects and leaf insects (generally the family Phylliidae). The ordinal name is derived from the Ancient Greek φάσμα phasma, meaning an apparition or phantom, and refers to the resemblance of many species to sticks or leaves. Their natural camouflage can make them extremely difficult to spot. Phasmatodea can be found all over the world in warmer zones, especially the tropics and subtropics. The greatest diversity is found in Southeast Asia and South America, followed by Australia. Phasmids also have a considerable presence in the continental United States, mainly in the Southeast.
Community content is available under
CC-BY-SA
unless otherwise noted.